Here you go!
Your Thriving Leaders Thriving Teams bonus resources pack is on it's way to your inbox now.
To access the full library of individual PDF's visit this page and enter the password you received in your confirmation email.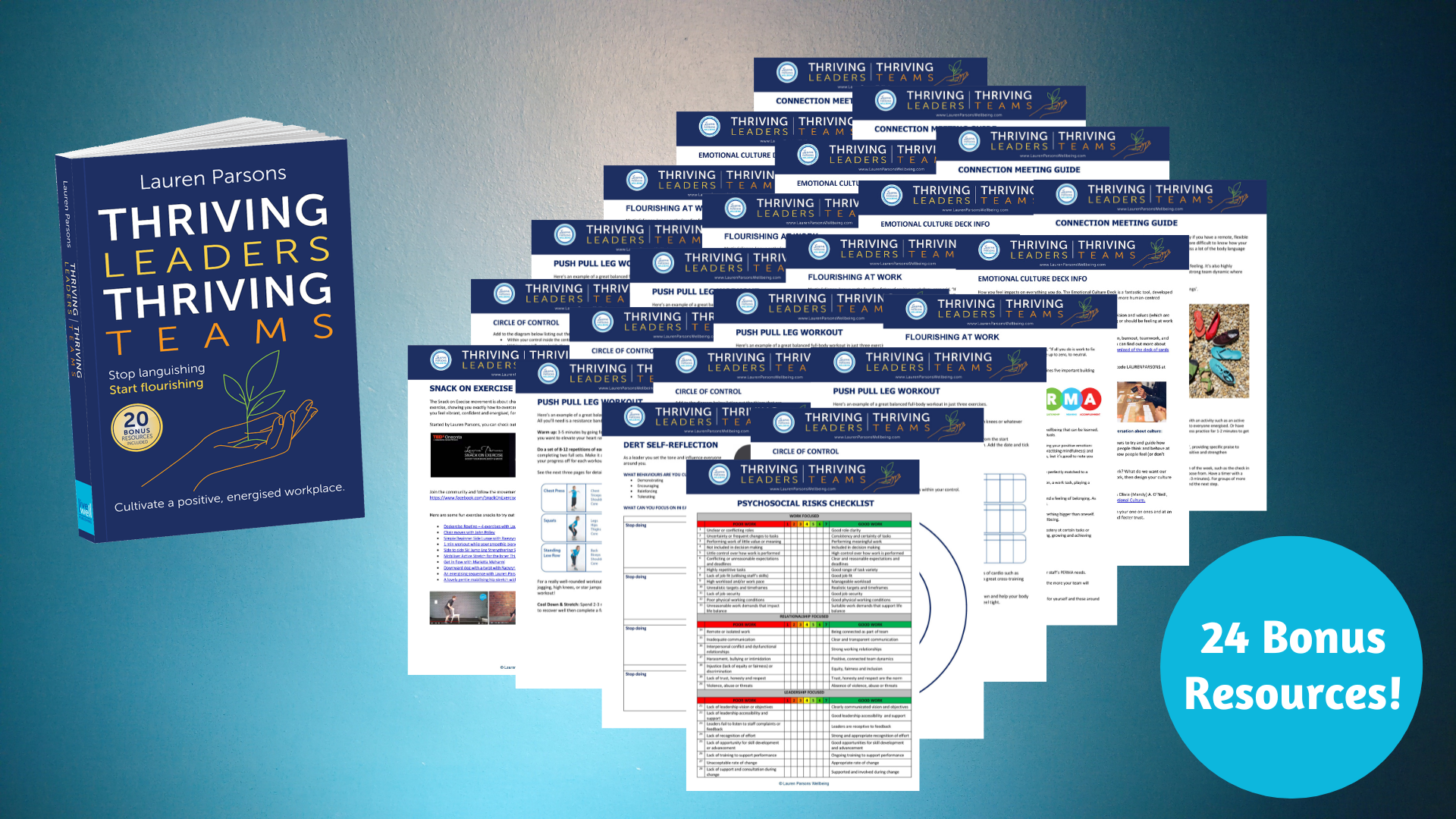 Click the video to see Lauren in action!
Lauren Parsons helps organisations thrive by reducing stress, boosting energy and massively increasing productivity.
Enquire about availability today
"Such an awesome, knowledgable and passionate speaker – a great inspiration!"
- Dan Wheeler, Owner of Freedom Plus
"Lauren Parsons shined bright as a keynote speaker at FMI's PD Week, engaging our delegates with an endless supply of energy that had them up and moving around with a smile on their faces.
Her tips on the health in the workplace truly resonated with our crowd and had people feeling uplifted and energized. Simply put, it was a joy to work with Lauren"
- Christopher Egan, CEO, Financial Management Institute of Canada
"Lauren ensured there was connection from the start with her powerful stories."
– Jane Warnock, Educational Leader, Tui Early Learners
"I LOVED your talk, you were my favourite speaker. You connected with us so well. You were real... transparent... fun... and revolutionary!! It was a revelation to me that only a short burst of exercise is still so worthwhile.....I am a busy person and have never given exercise any priority. The fact that we can build it into what we are already doing is so achievable and sustainable......it will change my life. Thank you Lauren, so much."
- Jan, Beach Church, Raumati
"Lauren's session was inspiring and uplifting and came at a time when employees needed to be re-energized. Her genuine and authentic approach, being a working parent, was appreciated and extremely well received by our staff."
- Dominque Martel, HR Manager, Office of the Superintendent of Financial Institutions, Canada
"Lauren's session was positive, influential, interactive and engaging. Lauren provides a relaxed atmosphere that includes all attending, encouraging everyone to take the next step (or lunge) into making positive change in your work environment."
- Major Glen Whitton, New Zealand Defence Force
"Inspiring and very knowledgeable! Excellent speaker!"
- Karen Shaw, New Zealand Post
"Lauren manages through enthusiasm and inclusion to inspire all sorts of people to have a go at making changes that they know very well they need to make but don't know where to start.  She encourages that first step breakthrough."
- Stewart Harrex, Fitzherbert Rowe Lawyers
"I can HIGHLY recommend Lauren, she is a fabulous presenter with passion, zest, humour and professionalism - she is a truly transformational person who will affect your world in a profoundly positive way! She is MUST see and leader in her field."
- Angela Cossey, Intimo International
"Lauren is an engaging presenter who brings a wealth of knowledge across a broad range of wellness areas. She demonstrates a real passion for making a positive difference in people's lives."
– Kelly Alkema, HR Manager, Hutt City Council
"A really interesting fresh perspective that lets you get more motivated in leadership within your organisation. Professional and clear with every point."
- Angela Starr, Director of Foundation, Arohanui Hospice
"Excellent presenting style, clear and well spoken. Good balance of fun, learning and group working. Thanks again Lauren hope to use you again in the future."
- Craig Woolliams, Operations Manager, Transfield
Just Some Of Our Amazing Clients
Watch Lauren's 2018 TEDx Talk