Lauren Parsons puts the power back in powerful. Too many times we focus on empowering others to be powerless. Lauren your session was totally energizing and uplifting, thank you.
- Diana Shirley, Manager - NZDF Defence Learning
The resilience session with Lauren was super informative, energetic and of great value.
- Anon, OMD
Lauren's session was so interesting. I really enjoyed the self-reflection. She really makes you think about the way you do things.
– Gary Lee, Foodstuffs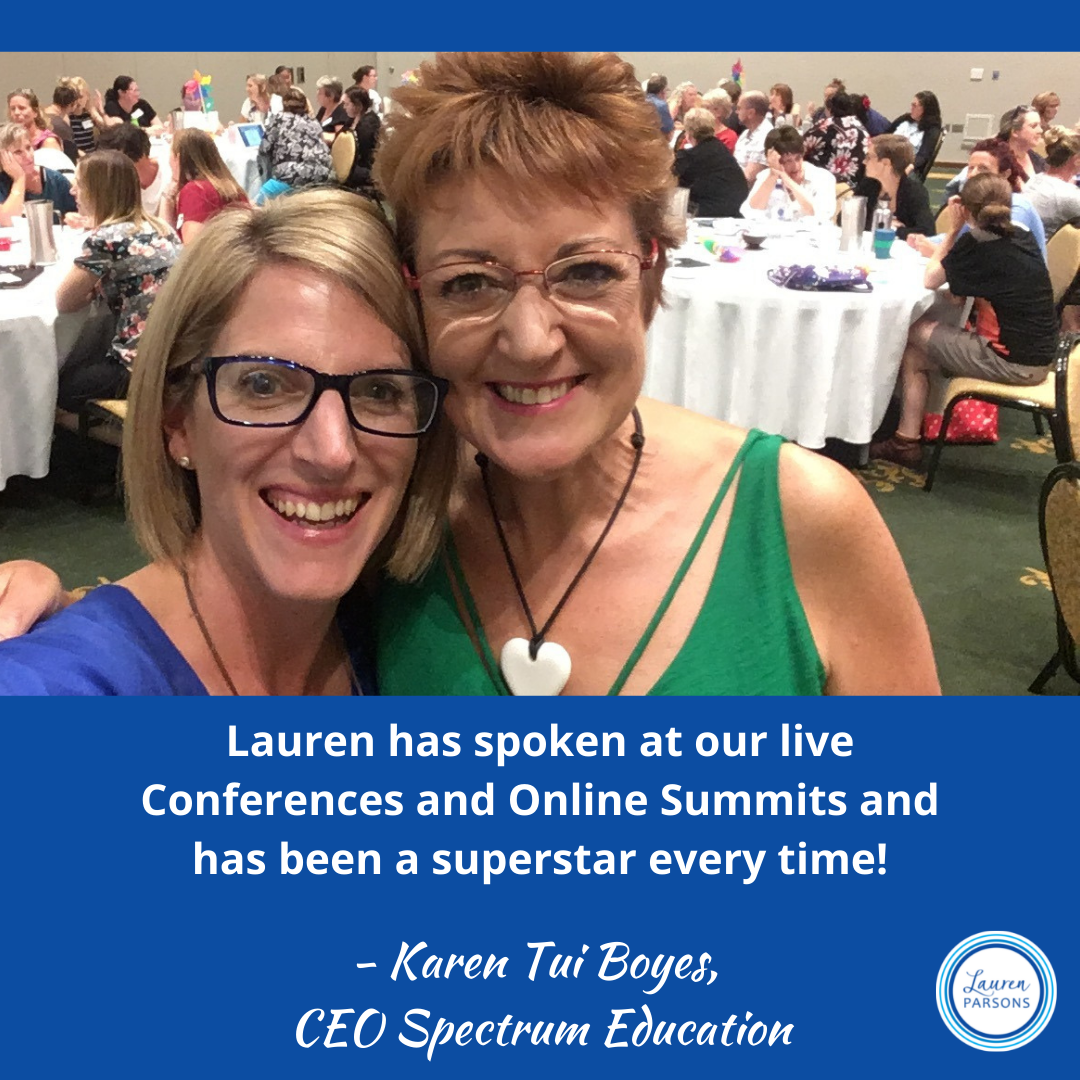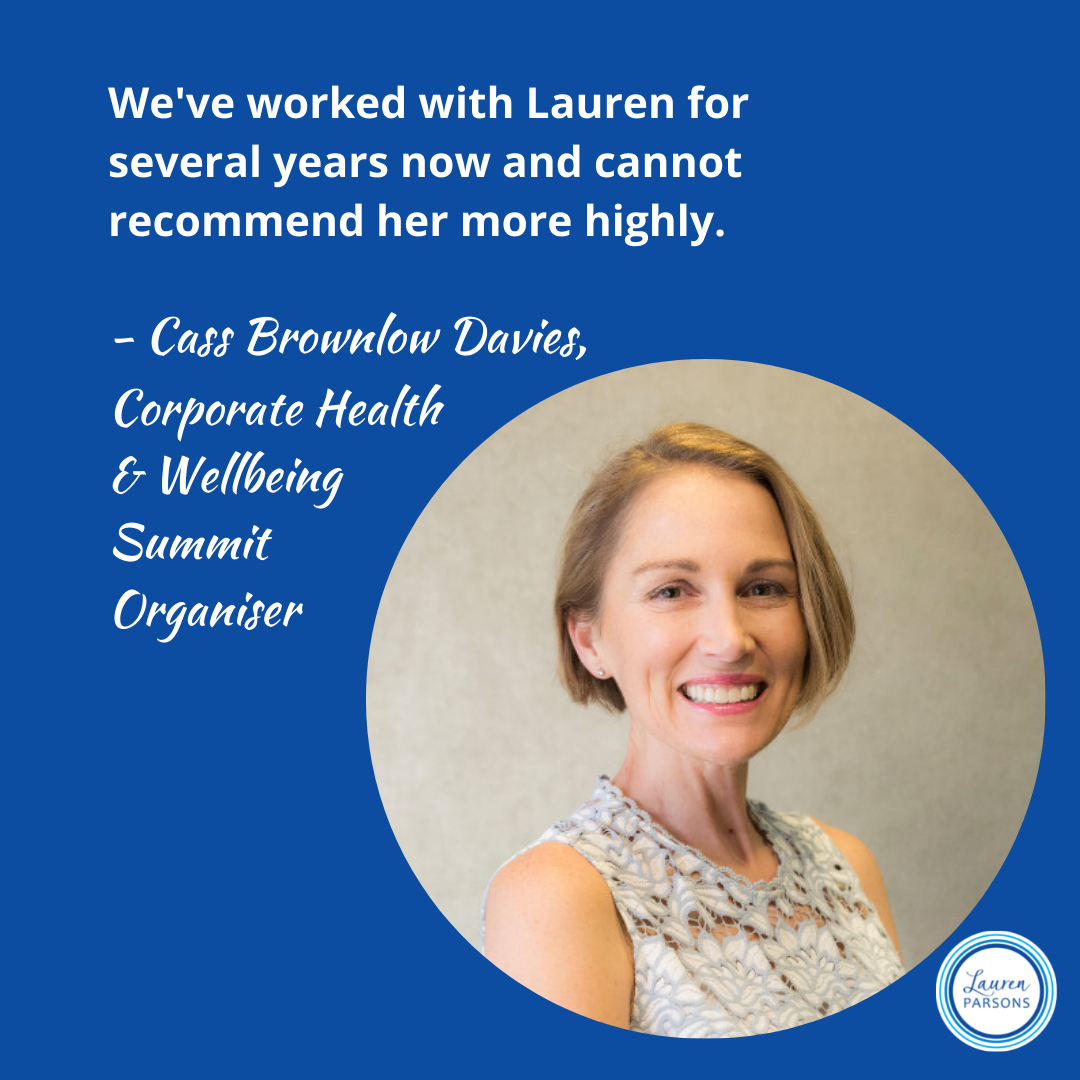 Your online presentation was so engaging and thought provoking - I loved it.
- Jules, NortTech
Really amazing workshop full of amazing and helpful information about wellbeing. It was lively and fun.
- Jeanny Kirchain, Puddleducks
Lauren is high energy and easy to listen to. Her sessions were coherent and flowed well. It was easy to maintain interest.
- Kevin Shore, Principal, St Peters College
Awesome session on how to be an inspirational leader. I'd highly recommend Lauren to other organisations.
– Jill Topia, MSD
Inspiring and motivating.
- Helen Worboys, Manawatu District Mayor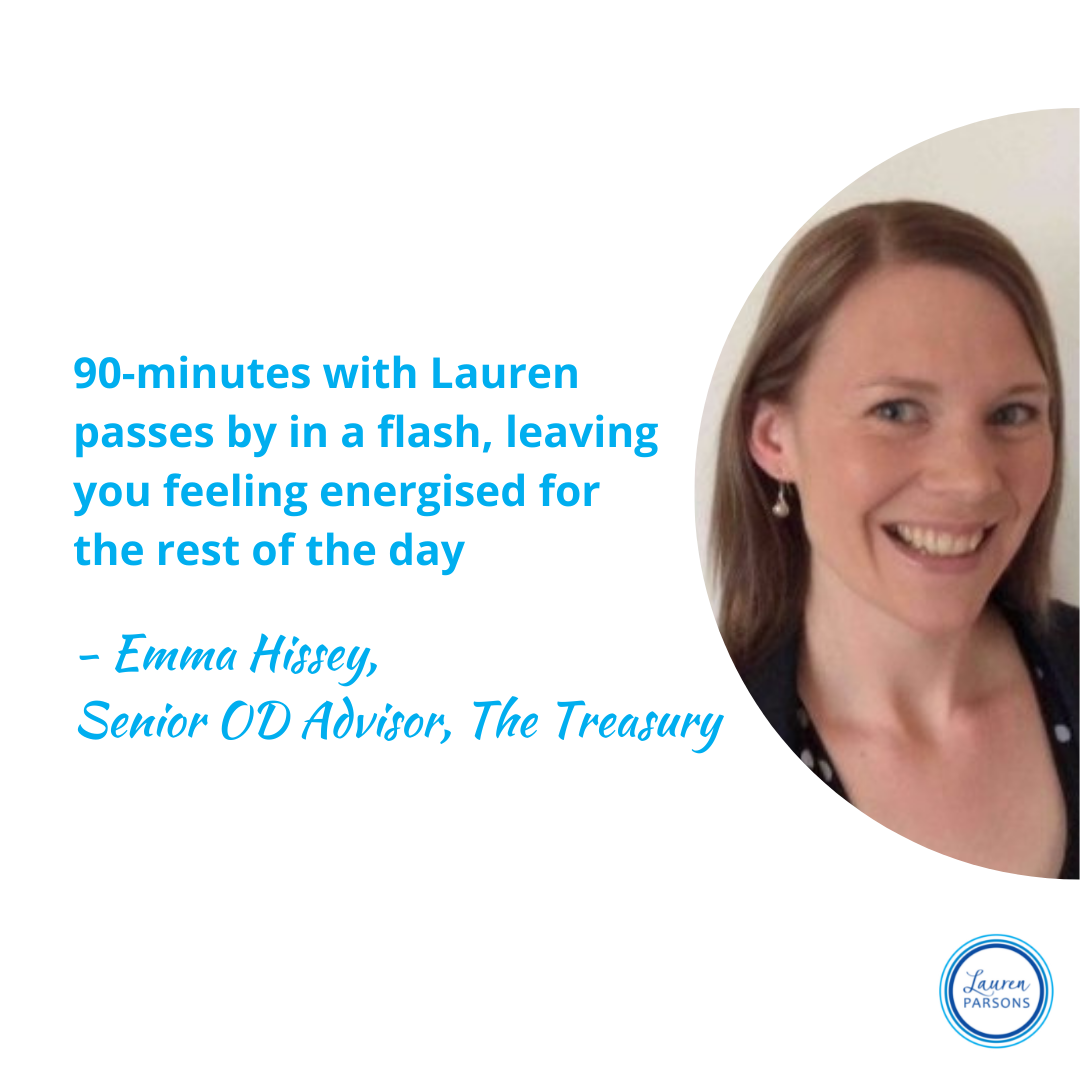 Everything Lauren covered just made me feel I was important.
- Sandy Hiku, NZDF Defence College
Lauren is an empowering breath of fresh air. Looking forward to using what I learnt at home.
- Shannon Chambers
Lauren's session was uplifting, fun and thought-provoking.
- Tiere Matenga Riki, Southern Cross School
Really great! I learnt so much that I need to improve on and practice DAILY!
- Sydney Fraser, OMD
Thanks for the excellent session Lauren. There is always something to grab and think about.
– Murray Richardson, Lindisfarne College
Lauren's session was accessible, full of practical information and ideas that would be easy to integrate into your life.
- Kelly Ross, OMD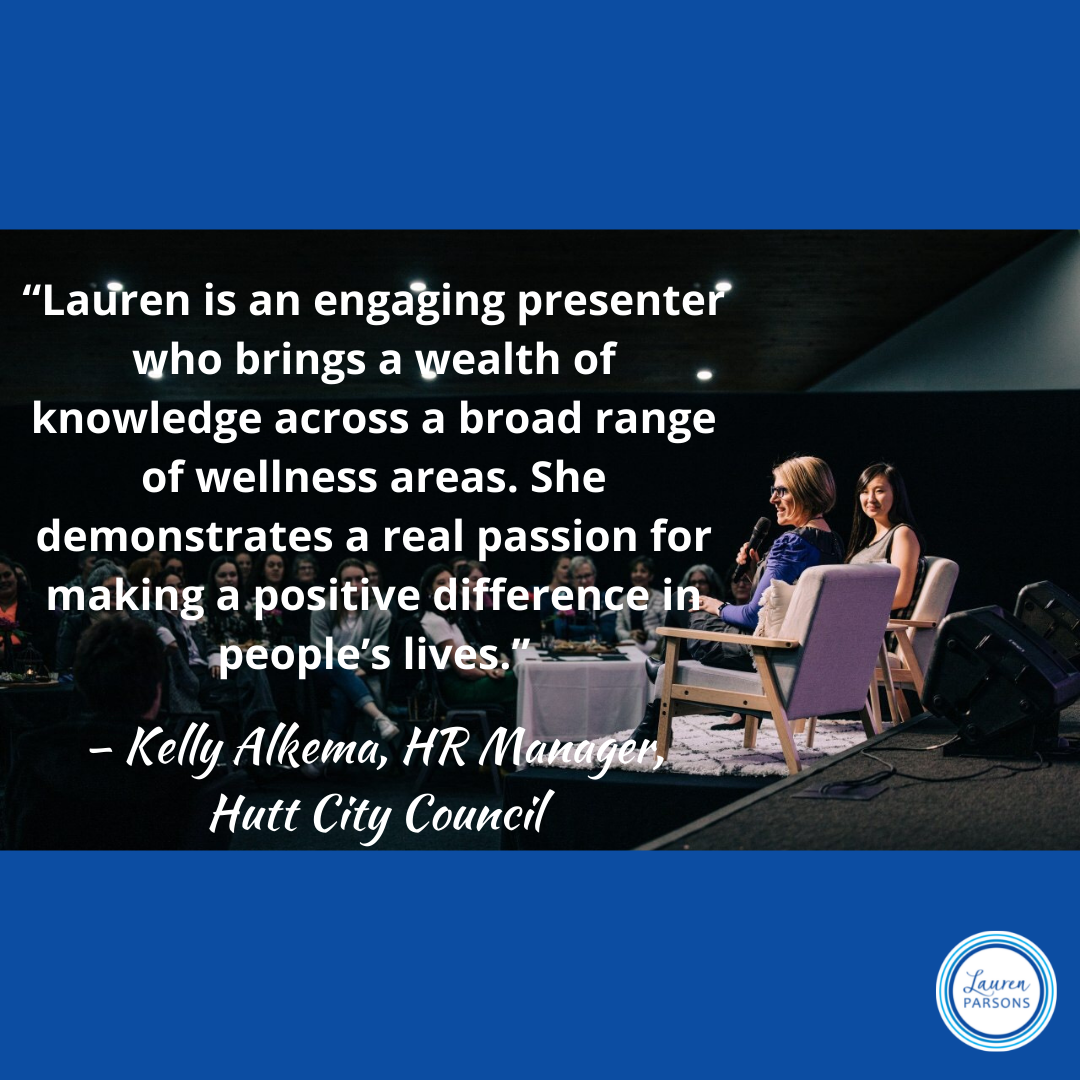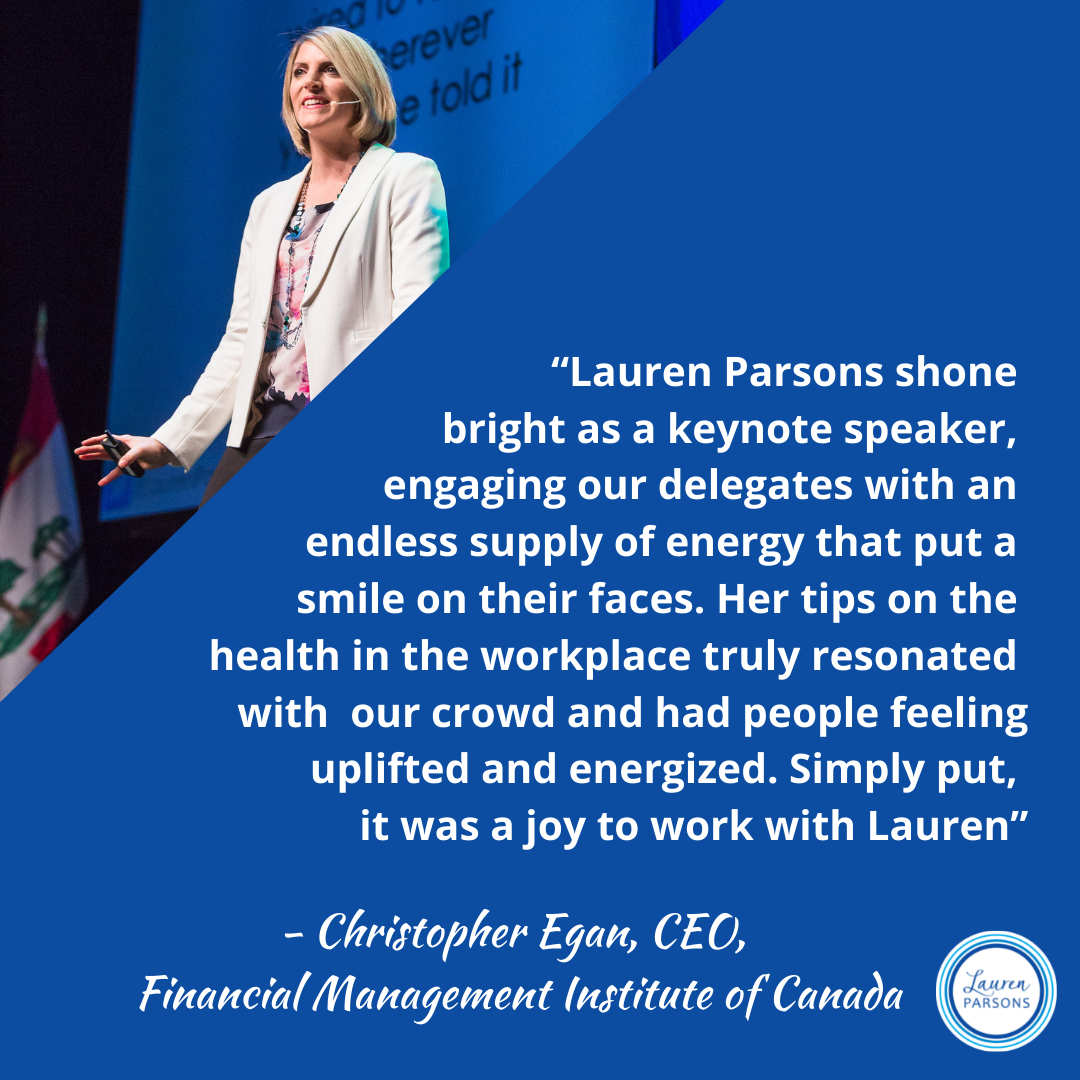 Lauren is energetic, easy to listen to, energising and interactive.
- Heather Eustace, One Tree Hill College
Excellent speaker, clear concise fact filled information. Can be applied to improve wellbeing mentally and physically.
- Kathleen Brown
Down to earth, practical tips.
– Daniel Muller
Such a great session focusing on yourself and also your teams around wellbeing & leadership. The personal wellbeing assessment was great.
- NorthTec
I got a lot out of the trustworthiness quadrants. It was a really positive intro to wellbeing for oneself and for teams.
– Lyn Cheyne, NorthTec
Wonderful. I loved the breathing part.
– Tina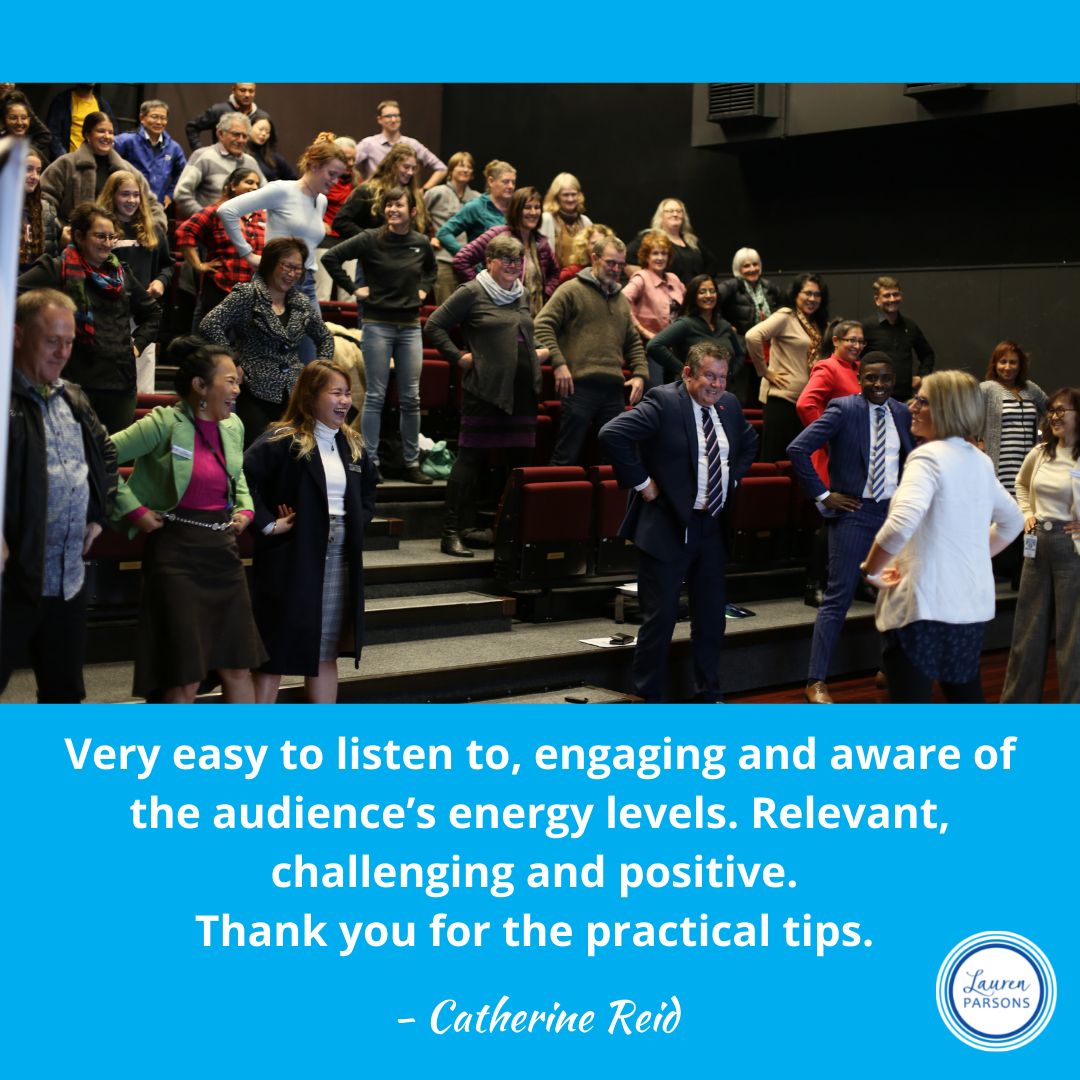 Brilliant session. Exceeded expectations! Lots of great content and plenty of things we can easily adopt in our own lives.
– Warren McKenzie, Flooring Design
Energetic and informative.
– Michelle McCormack
Lauren comes across as 'real' & sincere with good practical tips.
- Christelle du Plessis
The Live Well Principles were excellent. Simple to follow and connect with the content.
- Jon Smith, NorthTec
Lauren is so positive, practical and engaging. Her session helped me focus on what can be done.
– Lindisfarne College
Lauren was vibrant and interesting. The best speaker I have heard on this topic – she covered so much!
- Anon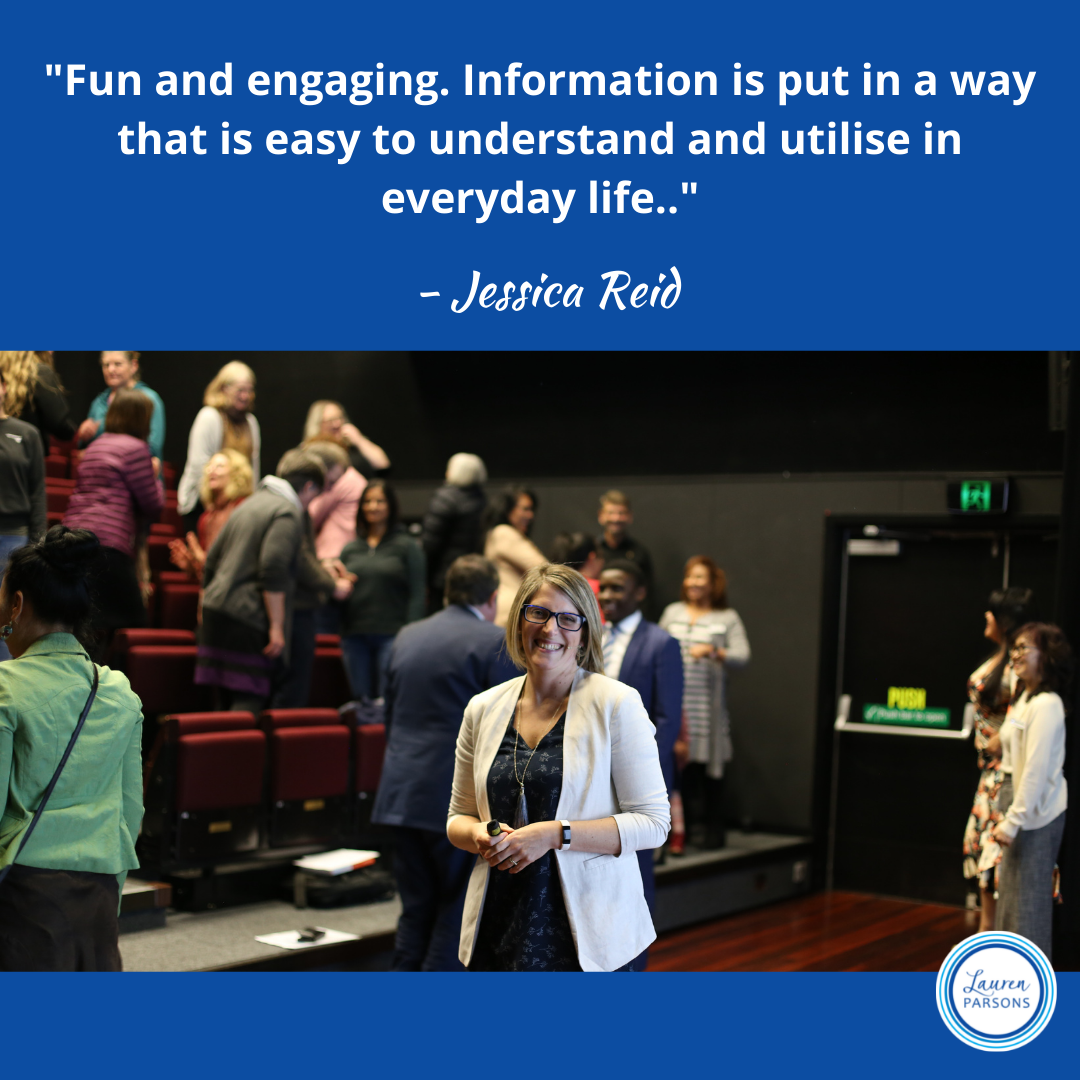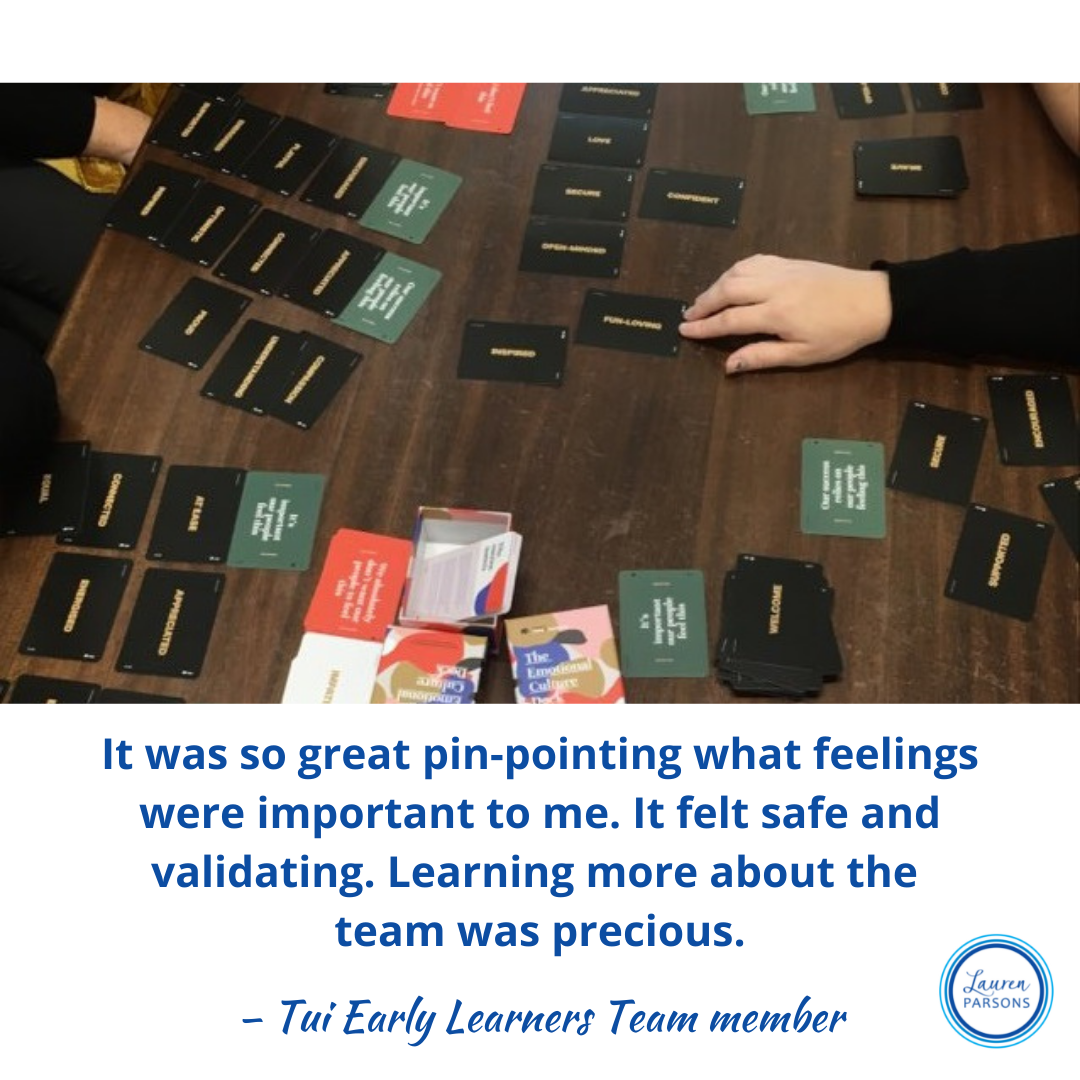 The Emotional Culture Deck Session was such a great chance for self-reflection. It was so valuable thinking about the most important success feelings and not so successful feelings.
- NZDF Defence College
Lauren is motivating, inspiring, and open, she built good rapport and used real and interesting examples.
- Charlotte James
I loved everything! The values, praise, trust. Lauren was excellent – so well organized, slick and easy to listen to.
- Jan Stevens, Assistant Principle Kingslea School
Lauren gave practical advice with enthusiasm. She was positive and very welcoming.
– Jen Dustin, Palmerston North Girls High
Lauren's session was brilliant, funny and informative.
– Brenda Jagger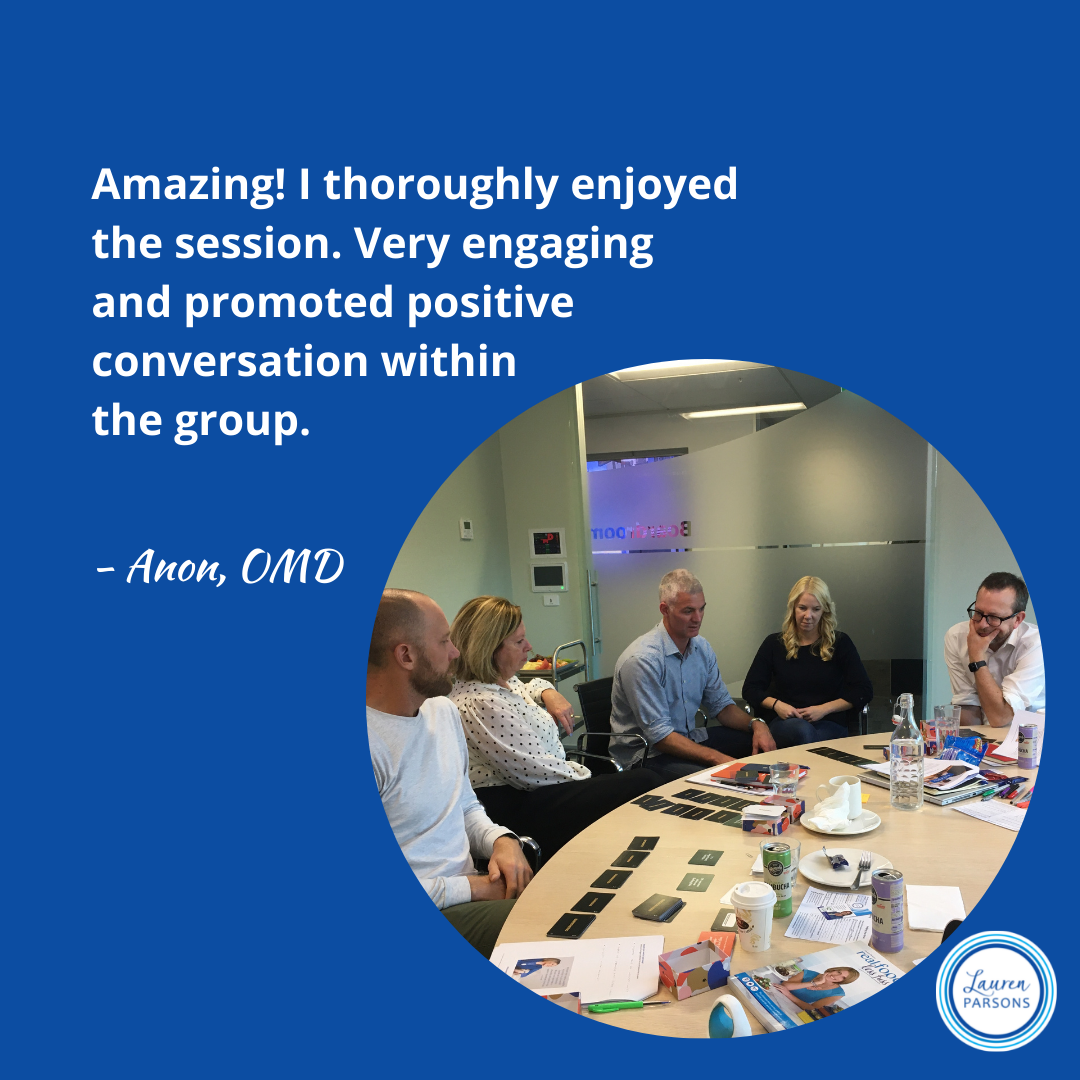 Lauren is a very uplifting woman. Her session could be life changing for so many! Nice and simple to follow too.
– Shelley Johnstone
Lauren an excellent, engaging, knowledgeable group facilitator. Very valuable for both personal and professional development.
– Anon
Want these results for your organisation?
Lauren's session was informative, well supported and easy to implement.
– Jessica
It was valuable finding to many adjectives that fit. The session was comfortable, challenging, informative, relevant and inspiring.
- Anon
Lauren was charismatic and well prepared with lots of content.
- Chris Wilson, Manawatu Golf Club
Positive and super useful for everyday life. Tips that are achievable to do.
- Bex Donald, OMD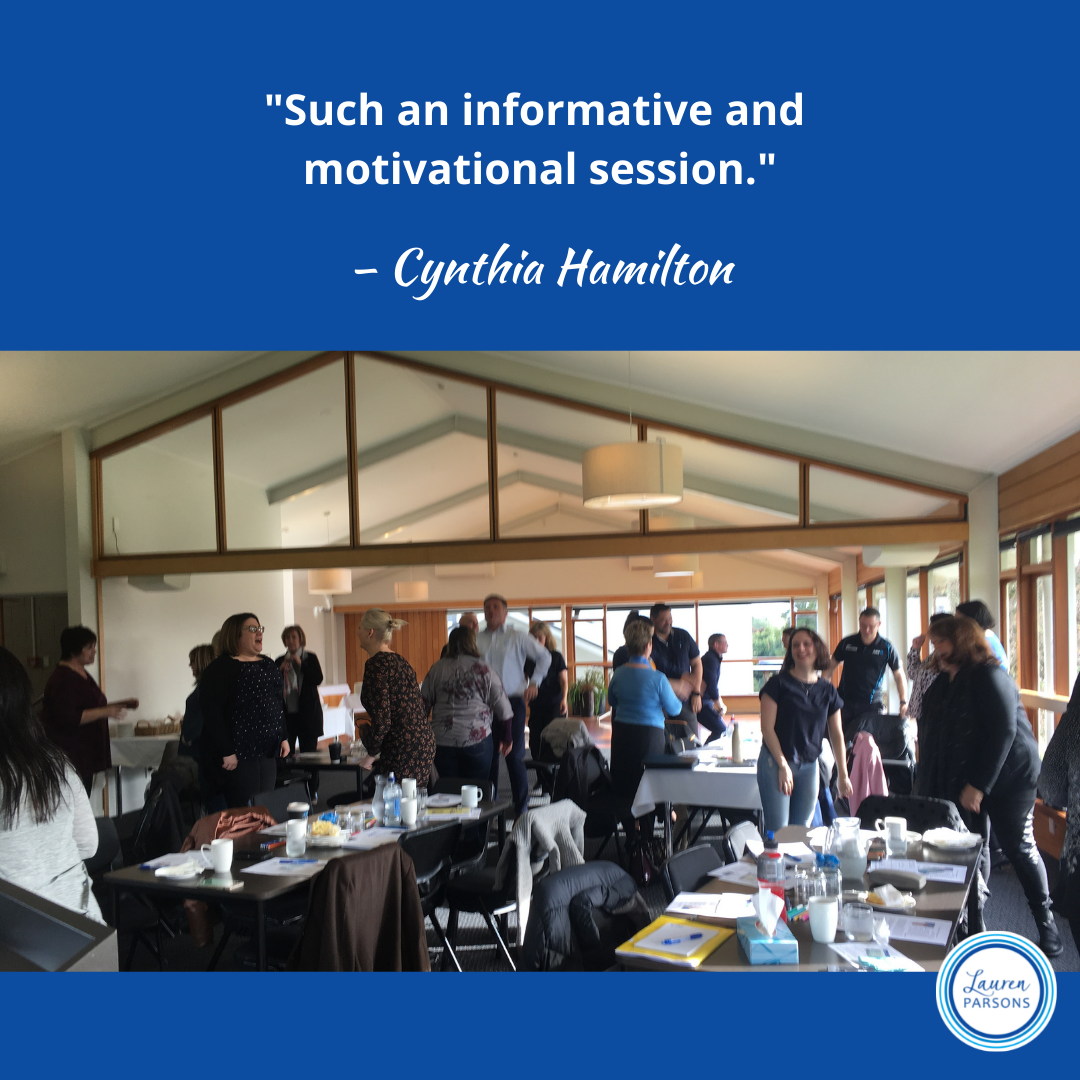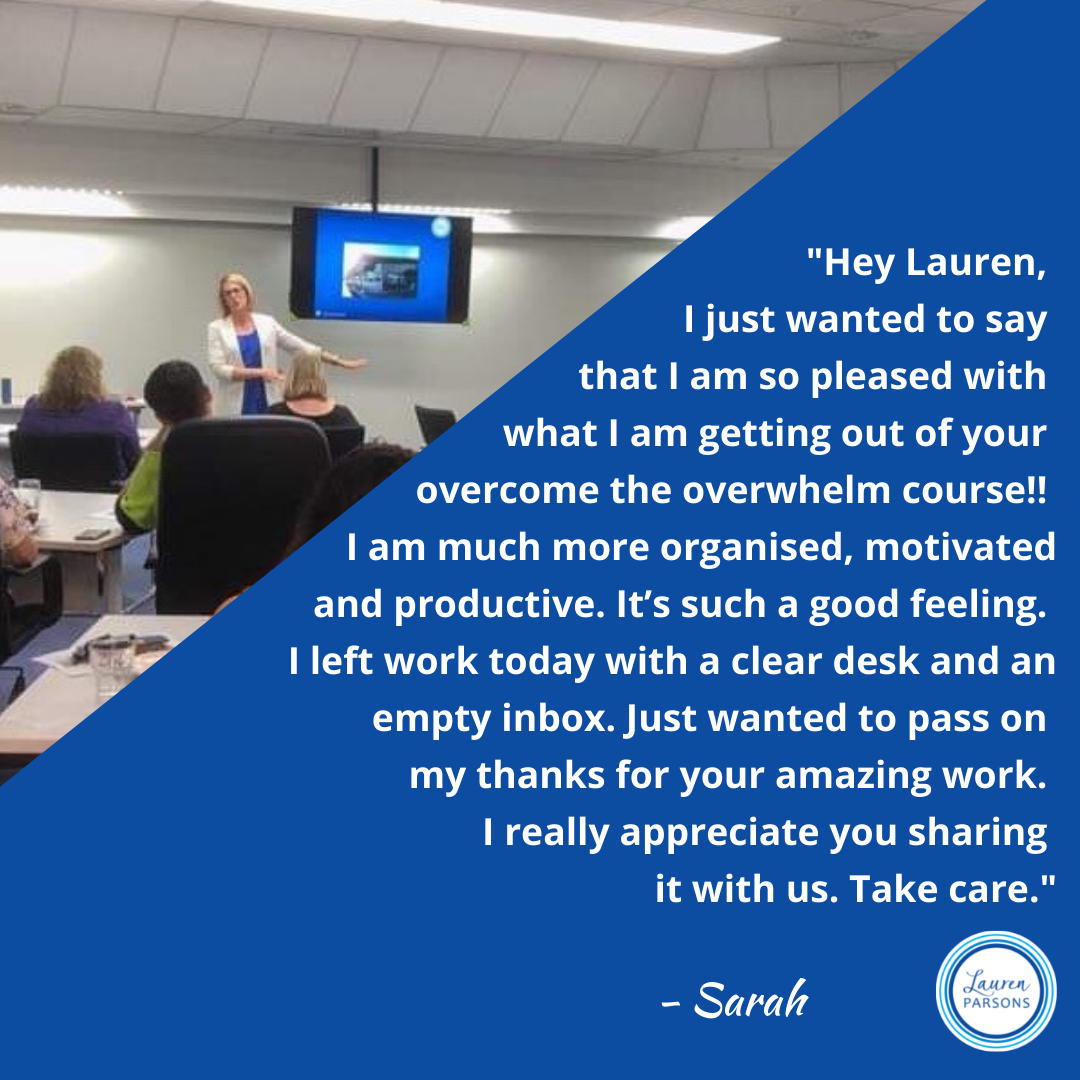 Lauren's resilience session is absolutely amazing and you should attend it!
- Deep Balsara, OMD
Lauren's 'Leading so People Thrive' session was interesting and full of valuable information.
- Michelle Manaia, Foodstuffs
Lauren was very bright and clear minded. She makes us feel very important to feel what we feel. She ensured we had a laugh and made it fun.
– Kate Fannin
Lauren delivered an energetic presentation. It was inspiring, helpful and easy to understand.
– Amey Lewer
Thank you for a fantastic day Lauren! It has been so very insightful and helpful with all things work and non-work related!
– Anon
Very enjoyable and inspiring thank you!
– Zoe Lewis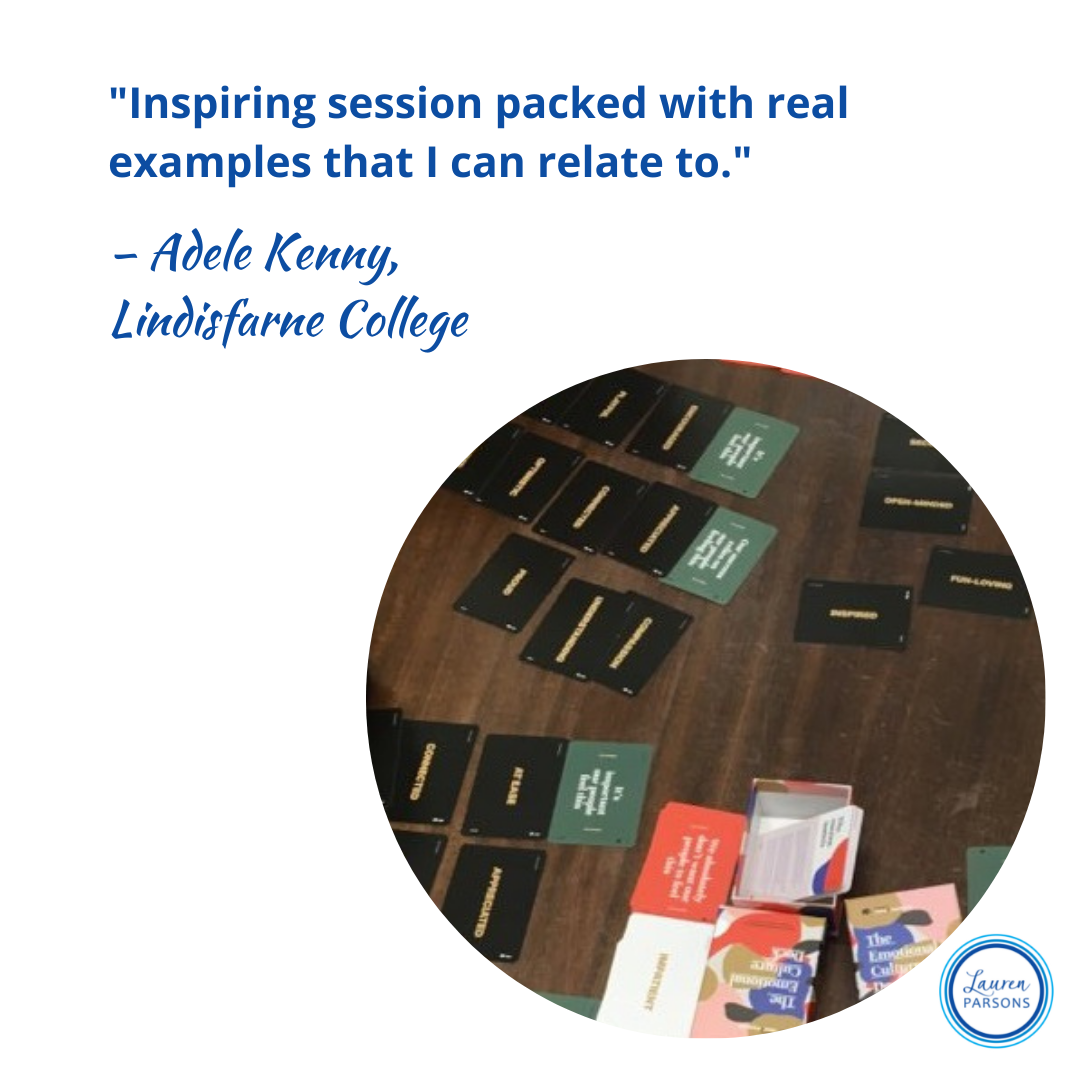 Lauren's session was inspirational. Lauren makes you think about what you can do now and what you can do to change.
– Lisa Oldfield, Head Teacher, Tui Early Learners
Lauren's session was fantastic. Easy to listen to and motivating.
– Anon
Really inspiring to listen to and helpful to know just how thinking about being grateful can make you feel.
- Zainab Hasan
Lauren's session was inspiring and achievable. She has amazing knowledge and energy.
– Kaitlin Kearins, Tui Early Learners
Engaging and lovely. Lauren delivers clear and descriptive explanations of complex ideas.
– Anon
Lauren is an excellent public speaker with great stories. Being vulnerable makes her personable and we can all relate at some level. Day went quickly.
– Shea McAleese, Lindisfarne College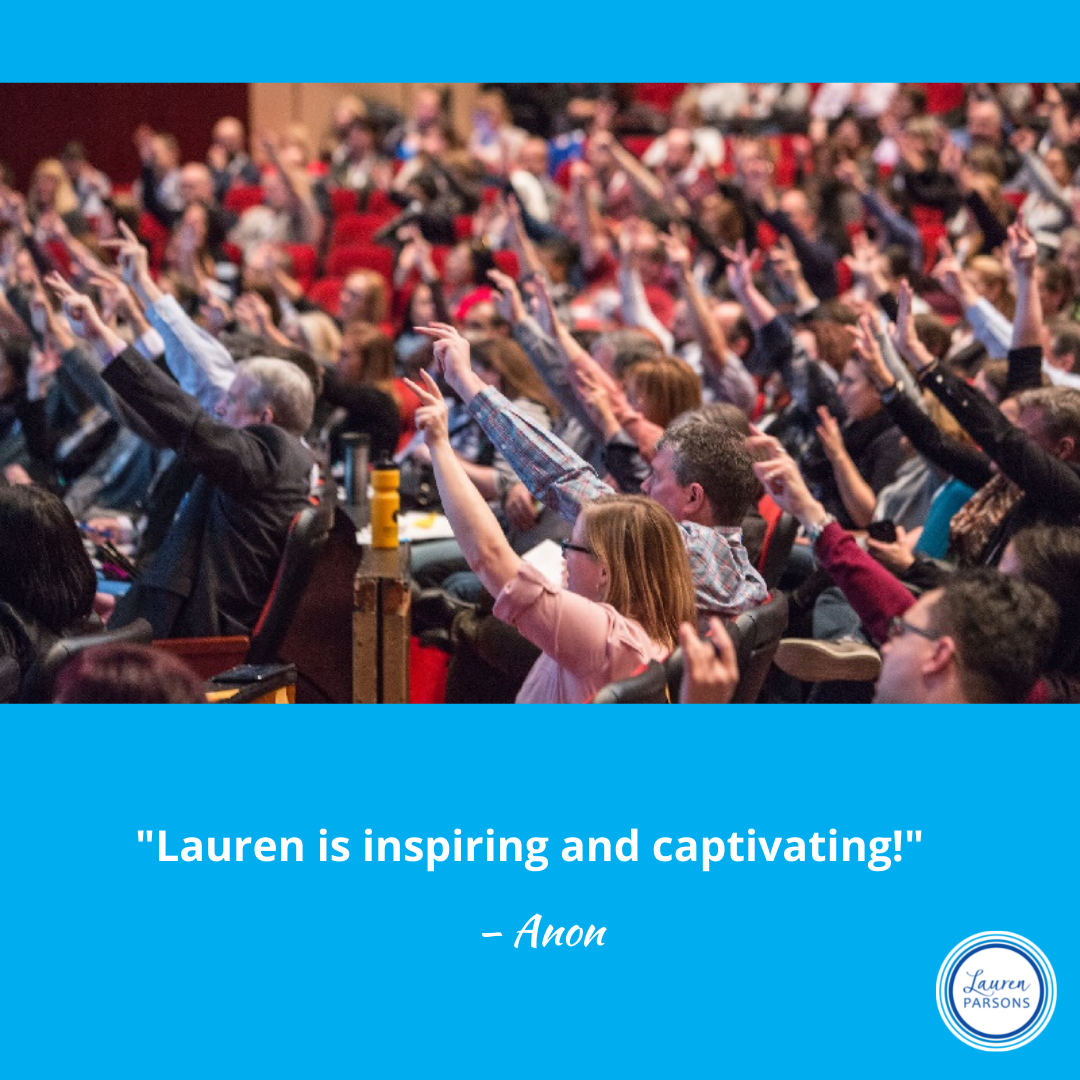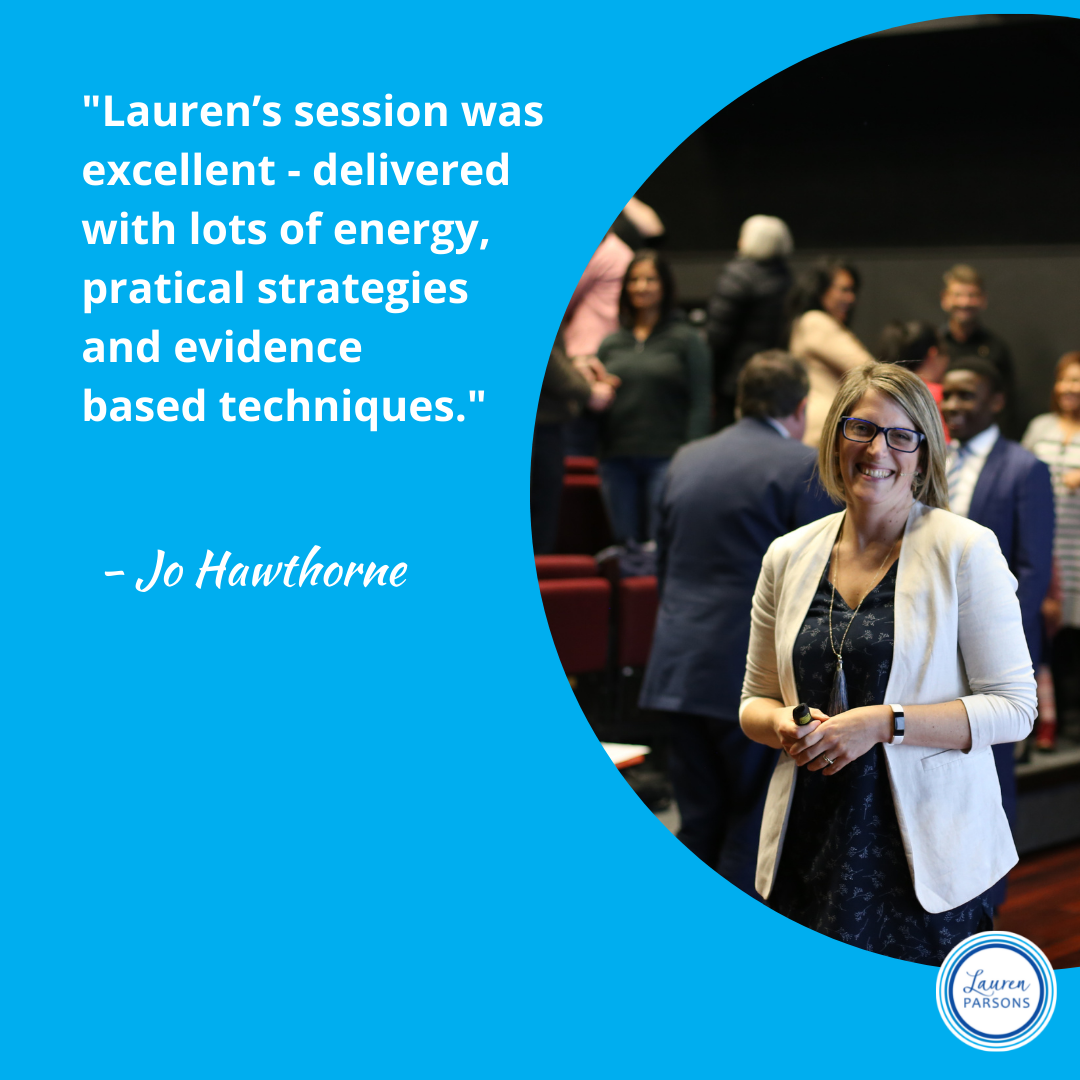 Lauren is a great communicator. She engenders participation from everybody.
– Lance Reyland, Flooring Design
Very engaging and informative.
– Tanya Glavas, Horowhenua District Council
Lauren's session was fun, energetic, uplifting and thought-provoking. Highly recommend!
– Anon
Such an interactive and informative session. The best thing was seeing what feelings my team want and don't want to feel.
– Melissa Wilson, Tui Early Learners
Lauren's session was definitely worth it, she's great!
- Robert Embroidery
Lauren's session was entertaining, informative, practical and well balanced. I know I will be using many of the wonderful tips!
– Lisa Miles, Lindisfarne College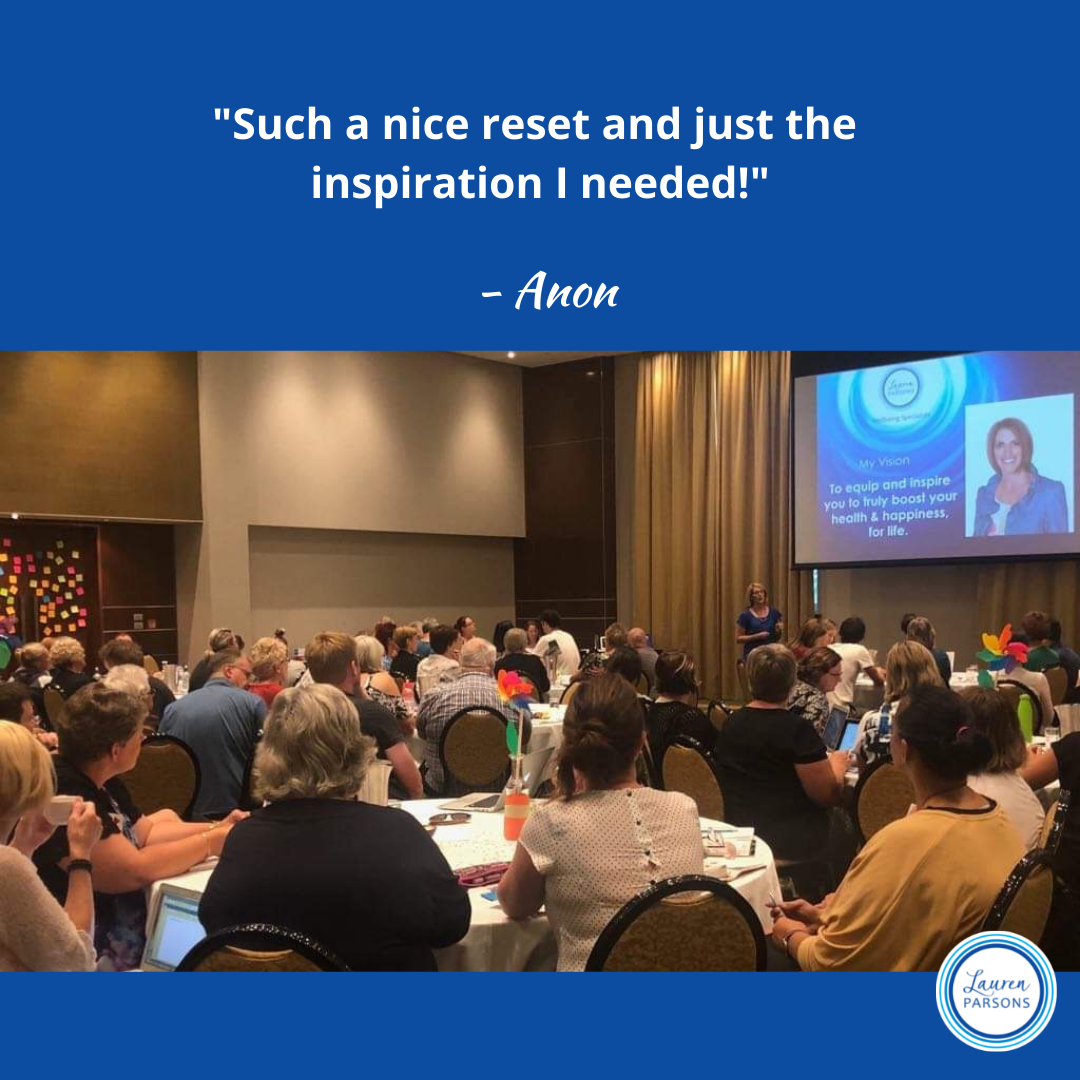 Lauren is so engaging, positive, knowledgeable and credible.
– Mike Harrison, General Manager, OMD
Excellent session. Lauren is so knowledgeable. It was a great reminder of the overall importance of wellbeing in life and work.
– Andrea Smith, NorthTec
Want these results for your organisation?