Stress. It's part of life.
It makes your heart pound, your breathing quicken and your body sweat. While stress has been made into a public health enemy, research suggests that stress may only be bad for you if you believe that to be the case.
In this refreshing look at stress, psychologist Kelly McGonigal explains some surprising truths about stress and how to prevent the negatives effects and instead make stress your friend.
She also introduces us to an unsung mechanism for stress reduction.
What she reveals could be life-changing for you or someone you love.
What did you think of the talk? Please leave a comment below…
If you enjoyed this, you'll also like:
This Downloadable Audio where I guide you through a Progressive Muscle Relaxation to destress, release tension and restore calm.
these talks on The Power of Vulnerability
How Boredom Can Lead To Your Best Ideas.
and this article Why Workplace Wellbeing is Worth its Weight
Want to boost your Workplace Wellbeing?
What kind of difference do you want to make to your organisation? By creating a positive, energised workplace culture, you will boost morale, improve team dynamics and gain a reputation as a desirable employer. Not only will your people perform at their best, you will easily recruit and retain fantastic people, all driving your company to success.
To get started with some practical steps to put in place to boost the health and wellbeing of your team, download a complimentary copy of my eBook 5 Keys to a Positive, Energised, High-Performance Culture.
Simply enter your details here so we can email it out to you.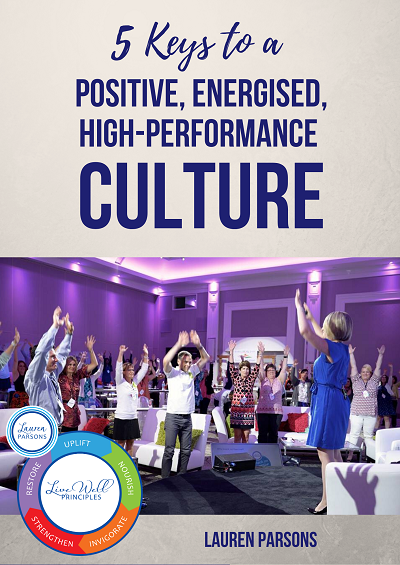 It will equip you with checklists of tips and ideas you can implement straight away to help your team thrive.
If you'd like to connect with me to discover how I can help your team thrive, feel free to book a chat into my online calendar.