Discover the fundamental shift in the 'happiness equation' that is required to create true happiness.
In this world famous TED Talk, Shawn Achor, author of The Happiness Advantage outlines how increasing happiness can transform individuals, companies, communities and the world.
Watch this outstanding and entertaining message in which he shares five practical ways to train your brain for happiness!
Which of his five practical tips would you try first?
Once you do try them (or if you already practise them) what benefits have you found?
Please leave a comment below…
If you enjoyed this, you'll also like:
This article on How Individual Happiness Leads to Company-Wide Success
This article Why Workplace Wellbeing is Worth its Weight
This interview on How to Massively Boost Your Productivity
Initiating positive change
What kind of difference do you want to make to your organisation? By creating a positive, energised workplace culture, you will boost morale, improve team dynamics and gain a reputation as a desirable employer. Not only will your people perform at their best, you will easily recruit and retain fantastic people, all driving your company to success.
To get started with some practical steps to put in place to boost the health and wellbeing of your team, download a complimentary copy of my eBook 5 Keys to a Positive, Energised, High-Performance Culture.
Simply enter your details here so we can email it out to you.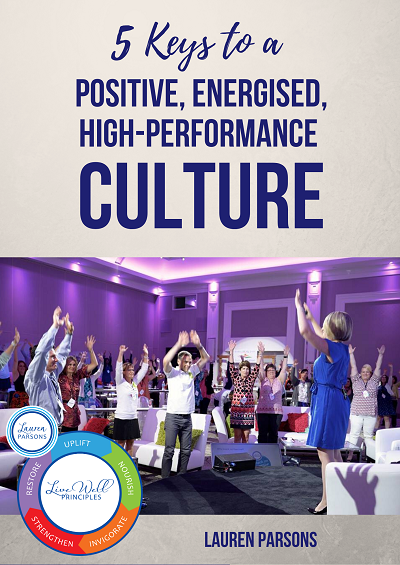 It will equip you with checklists of tips and ideas you can implement straight away to help your team thrive.
Ready to make a difference?
If you'd like to connect with me to discover how I can help your team thrive, feel free to book a chat into my online calendar.