IN THIS EPISODE YOU'LL DISCOVER
Why recognition is the single easiest, most accessible, and effective way to repair and invigorate meaningful relationships, personally and professionally.
How leaders' cannot perform at their peak without leveraging the exponential power of recognition.
Why the highest performing companies make recognition a cornerstone of their culture.
HIGHLIGHTS
3:26 – How Sarah got started into what she does now & why recognition is so vital
6:00 – Defining Self-Recognition and Recognition of others and the impact they have
8:09 – Why leaderscannot perform at their peak without leveraging the exponential power of recognition
9:20 – What to do with negativity, gossip and complaining
10:50 – Daily habits to boost optimism
14:20 – FROGing – (forever recognising others greatness)
15:25 – How to create the exponential benefit of recognition and suit it to the recipients style
21:15 – Why happiness leads to success (and not the reverse)
22:30 – Great Happy People
24:03 – Why recognition links so powerfully to performance
27:30 – How organisations can foster recognition in the workplace
29:56 – Why encouragement is a powerful form of kindness and how to practise it
31:58 – A story about the exponential power of kindness and recognition
34:22 – How to get cool stuff

Want to get notified of the next episode?
Prefer to check out the podcast version of the show?
ABOUT SARAH
Sarah McVanel helps leaders leverage the exponential power of recognition to retain top talent. She jokes it's the only "lane" that pulls together her BA (Psych), MSc (Family Relations), & certifications in Organizational Development, Coaching, Human Resources & Healthcare Admin! She left her senior leadership role 4 years ago to launch her boutique firm Greatness Magnified, authoring some books, VLOGing, tap dancing, & getting up to no good with her hubby Mark & kids Justin & Simonne.
CONNECT WITH SARAH
Check out Sarah's Website
Access her Amazon Alexa Flash Briefing
Sarah's Book Forever Recognize Others' Greatness: Solution-Focused Strategies for Satisfied Staff, High-Performing Teams, and Healthy Bottom Lines
Get yourself on Sarah's mailing list & get other free cool stuff
…
ENJOY THIS EPISDOE?
Please leave a comment below and share this to help more people boost their health and happiness…
What some help creating a Positive, Energised, High-Performance Culture in your workplace?
---
To get started with some practical steps to put in place to boost the health and wellbeing of your team, download a complimentary copy of my eBook 5 Keys to a Positive, Energised, High-Performance Culture.
Simply enter your details here so we can email it out to you.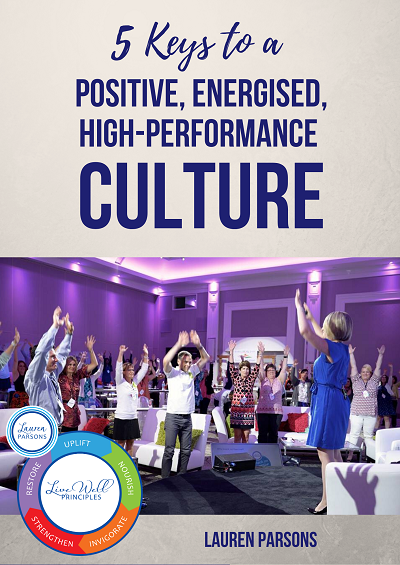 It will equip you with checklists of tips and ideas you can implement straight away to help your team thrive.
Want to boost your team's wellbeing?
For further assistance to boost your team's energy and productivity, schedule a time for a chat or a complimentary workplace wellbeing insight session with Lauren.